Powerbank
| | |
| --- | --- |
| Recommended Product: | Litionite Tanker, Model No. NJF-5X |
This product has six adjustable voltages (5V / 8,4V / 9V / 12V / 16V).
For the current setup, the voltage must be adjusted to 12V.
To change the voltage first press the button for two seconds to start up the power bank.
Change the volage level by double pressing the button till 12V is shown at the display.
Note: You must adjust the voltage before plugging in the ADMA.
ADMA – Backpack Settings
Please use the following Parameter settings for the ADMA in the Backpack. The Application should set as VRU-Backpack. This mode disables fixing the heading in standstill mode, because VRU's can turn even in standstill. Use the minimum values for the control settings and the maximum values for the standstill detection.
Note: The Application Backpack Parameter is included in the ADMA Firmware since version 30.10.0.24 and 35.0.0.0.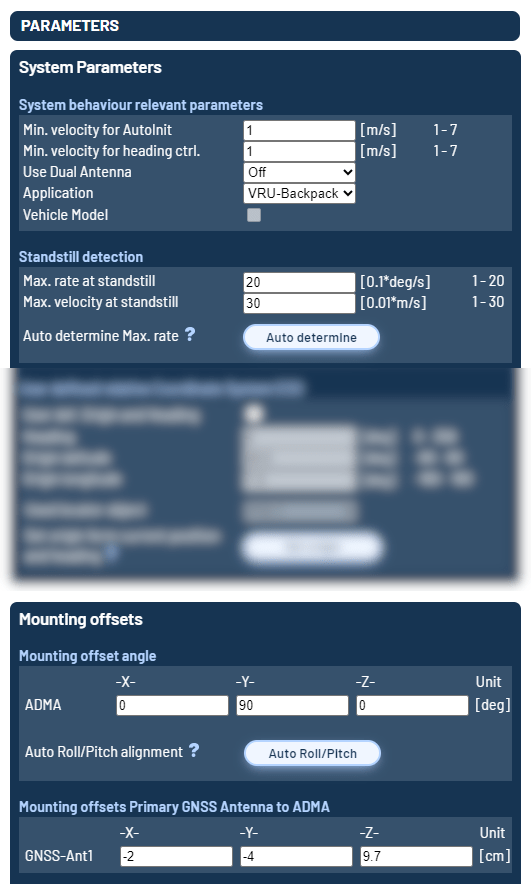 WiFi Settings
Interface Settings
IP-Settings
| | |
| --- | --- |
| IP-Address: | 192.168.88.101 |
| Subnetmask: | 255.255.255.0 |
WLAN-Settings
| | |
| --- | --- |
| Mode: | Client |
| SSID: | GeneSys_VRU_2GHz |
| SSID: | GeneSys_VRU_5GHz |
| WPA2 Key: | progenesys |