Dependable reference and test systems for autonomous driving
In developing autonomous vehicle technologies, it is essential to have a reference model to verify driving performance. Self-driving vehicles will have to drive in a variety of environments on public roads, requiring a flexible reference and test system that can be deployed virtually anywhere.
Reflected satellite signals from structures, bridges and tunnels all result in significant jumps in position estimates. Pure GNSS systems are therefore not very dependable on the public roads.
GeneSys Solutions
Our ADMA systems provides high-precision data even in the case of strong GNSS interference.
Users benefit from more than 25 years of application know-how and the experience of GeneSys experts
Different ADMA variants, our ADMA-PP post-processing software, ADMA options and add-ons allow you to flexibly put together the ideal system for your requirements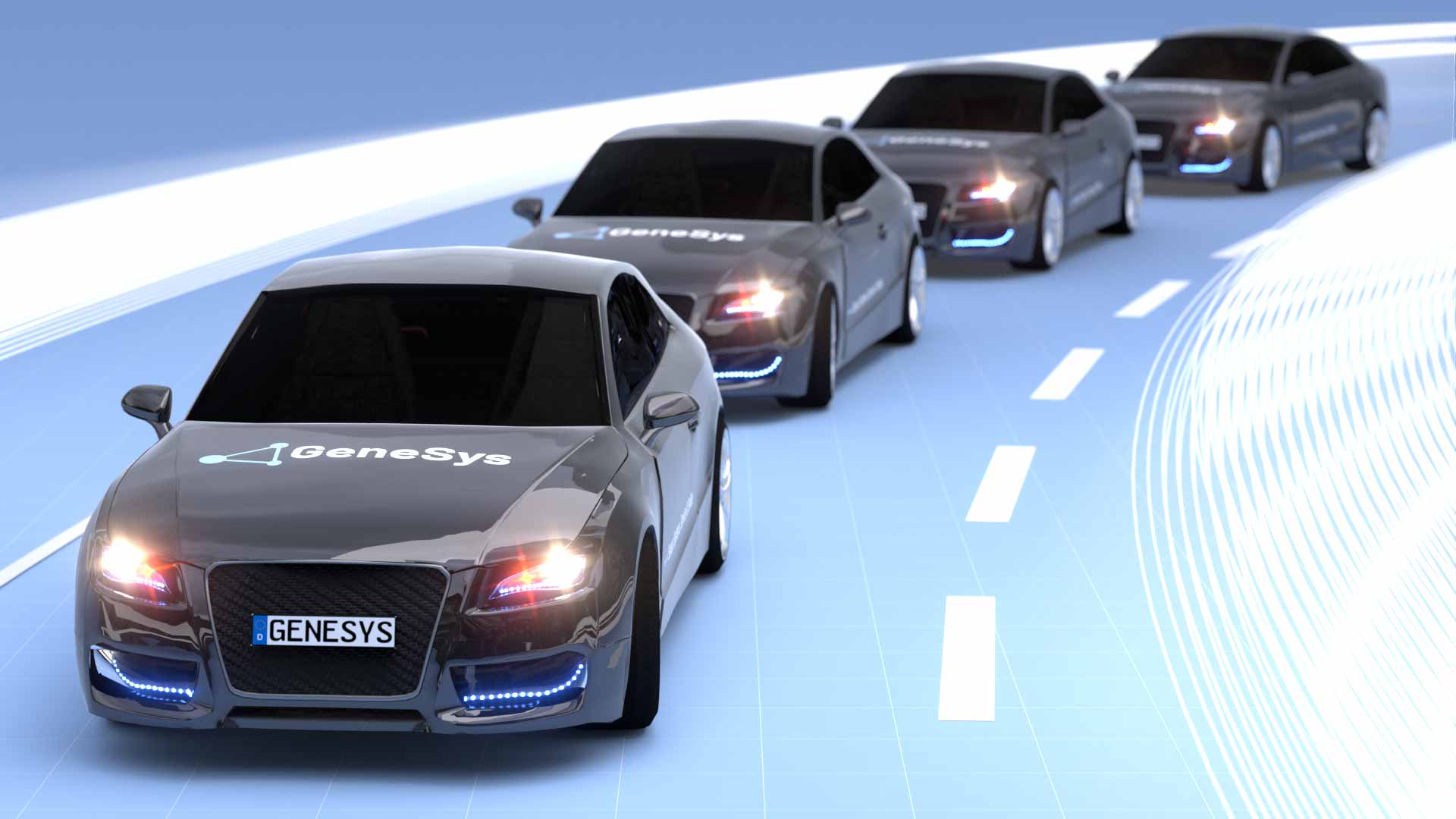 Recommended products
Our premium-star: ADMA-G PRO+
Complies with all international test standards EURO NCAP & NHTSA
Fiber-optic gyro system with three fiber-optic rotation rate sensors and three servo acceleration sensors class 1mg
Provides high-precision data even in the case of strong GNSS interferences
Validation of simulation models, ADAS Evaluation e.g. ACC, FCW, AEB (VRU, Car2Car), LSS (LDW, LKA) Chassis tuning
Product-Page
Post-Processing Software ADMA-PP
Merges ADMA inertial data, GNSS data and external additional information
Much higher position accuracy in general and eliminates jumps in position during partial or total GNSS shading (e.g. on emergence from a tunnel)
RTK correction data can be fed in without interruption
Additional features: Moving Base Add-On / Delta multi Add-On
Improved flexibility and accuracy by combining the forward / backward navigation solution
Save time: Retroactively change the ADMA configuration and fewer initialization steps
Track analysis, Road mapping, GIS data acquisition, Precise altitude profiling, Power train optimization, Consumption optimization, Verification of simulation models, Underground and tunnel survey
Product-Page
ADMA-Slim mini GNSS/inertial system
Meets requirements of international test standards EURO NCAP & NHTSA
Full-featured GNSS/inertial system for applications with space or weight constraints
Delivers precise, smooth and consistent signals even when GNSS reception is poor
Validation of simulation modelsADAS Evaluation e.g. ACC, FCW, AEB (VRU, Car2Car), LSS (LDW, LKA)Chassis adjustment
Product-Page
Options, add-ons and accessories
Option RTK2: High-precision position measurement using correction data
RTK stands for Real-Time Kinematic and is a technique based on carrier-based distance measurement that can RTK stands for Real-Time Kinematic and is a technique based on carrier-based distance measurement that can determine positions with high precision.
The method is much more accurate than code-based location. The basic concept is to eliminate the various error sources of raw GNSS positioning by using a local base station whose exact position is known. For this purpose, correction data of a virtual base station of different correction data services can be requested, or a local base station with its own GNSS receiver is used.
Product-Page
Option Multi-GNSS: Use of multiple satellite systems such as GPS, GLONASS, Galileo, Beidou
Today's GNSS-Receivers have the option of accessing multiple satellite systems such as GPS, GLONASS, Galileo and Beidou.
By using these systems in addition to GPS the Receiver is able to track more Satellites which results in the following advantages:

Reduced signal acquisition time.
Improved position and timing accuracy.
Reduction of problems caused by obstacles such as buildings and leaves
Improved spatial distribution of visible satellites, resulting in improved position accuracy.
Product-Page
Moving Base Add-On: Relative distance calculation via post processing
Distance calculations in post processing between two or more vehicles with a relative position accuracy of +/-2cm
No need for online or offline RTK correction data.
The accuracy is achieved by combining the pseudo range-, carrier phase- and doppler- measurements of the Hunter and Target-ADMA. Post processing requires an ADMA-Raw-Data log only.
One more benefit of post-processing is that it eliminates the need for a radio link between the participants. This reduces setup efforts, and saves time. On top of that, the system eliminates data loss due to disconnections.
Product-Page
NTRIP-DGPS-Box 4
DGNSS Correction Data for High-Precision Positioning from RTK Network Provider or GPS Base Station
DGNSS Correction Data via GPRS from a GPS Base Station or RTK Network Provider
User-friendly operating software for entering the GPRS network parameters
GPRS mobile antenna with magnetic base for easy mounting on the vehicle roof
Automatic dial-in and redial-in after connection failure
Product-Page
Mounting accessories
For all ADMA systems, various accessories are available for installation in the test vehicle
Seat rail adapter with ADMA mounting plate
Installation support for ADMA plus data acquisition systems with a quick-installation mounting pole or on-seat adapter
Mounting plate with quick-installation mounting pole
RT-Strut with ADMA mounting bracket

Product-Page
Add-On DELTA: Relative data calculation via WiFi in real-time for multi-vehicle operation
The "DELTA" Add-On enables the direct output of relative data between two vehicles, for example distance, velocity and angle. Other than a WiFi connection between the two ADMAs, no additional hardware is required.
Data is provided in real time with minimum latency. This option is widely used for ADAS tests, especially AEB, FCW and ACC. Our customers rely on the ADMA option both when establishing a precise distance reference and for distance control of steering robots.

DELTA option is available for all ADMA models
Product-Page
Option DGNSS Correction Data: Correction data reception via Ethernet
Ideal on public roads
The option provides the capability to receive DGNSS correction data forwarded from a second ADMA
via WiFi / Ethernet.
This is the preferred option for multi-vehicle applications, e.g. LSS, ACC-, AEB- und FCW testing.
This option is used in place of radio modems, increasing the availability of DGNSS correction data, especially on public roads.
Product-Page
WiFi-Kit
WiFi Data Transmission across multiple vehicles
Waterproof and temperature resistant (-40°C to 70°C tested)
Magnetic base and window pane mount for antenna attachment
Omni Dual-Band Antenna | PoE Input
Ethernet port 1 x 10/100/1000 Mbit | frequency band 5 GHz / 2.4 GHz
Protocols 802.11 ac / 80211 b/g/n
Input voltage 10 - 30 VDC | Power consumption 11 W max.
Output power 1300 mW max. | Antenna gain 8 dBi / 6 dBi
Product-Page