Indoor Positioning System IPS
Accurate position detection without GNSS* in cooperation with Racelogic: with the IPS (Indoor Positioning System), driving tests and crash tests with new sensor systems and safety functions can be tested in indoor facilities under constant ambient conditions.
IPS works by utilising a network of stand-alone, battery powered beacons which communicate using ultrawideband (UWB). The beacons are placed around the perimeter of the operation area (eg floor plan of building or construction site), in known positions which have been manually surveyed using a handheld laser, Total Station or, if time is of the essence, a self-survey can also be performed. The accuracy of the known beacon positions directly corelates to the accuracy of the output measurement, allowing for flexibility in required accuracy verses set up time. The beacons are completely stand-alone, and the option of battery power makes deployment very rapid. A UWB receiver on the target object communicates with the beacons and uses trilateration to determine its position.
A hardware interface for the GeneSys ADMA has been specifically developed and allows an interoperability with the IPS system. This way, the standardized ADMA position data output are equivalent to the ones, when operating the ADMA with GNSS in RTK2 mode.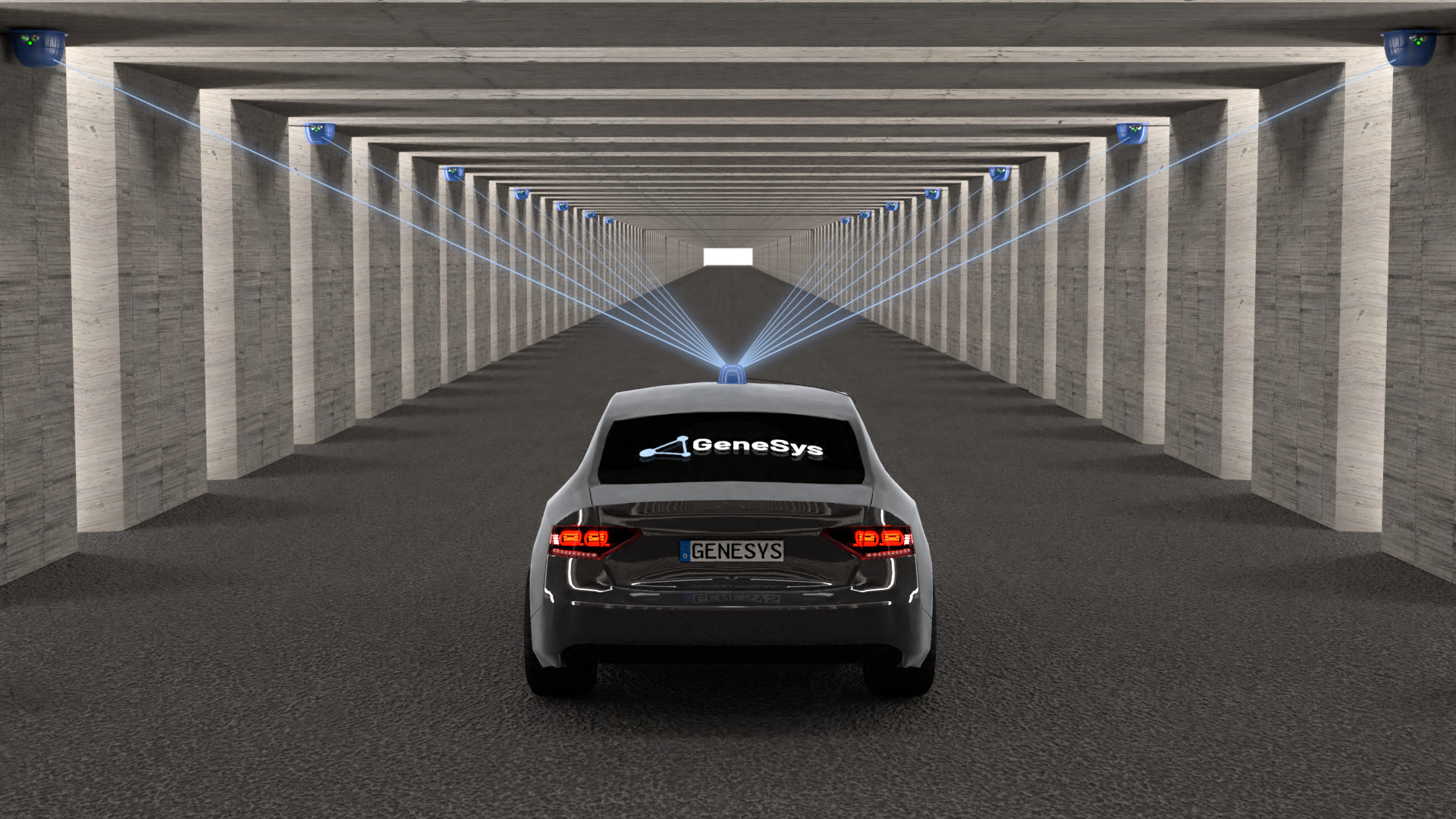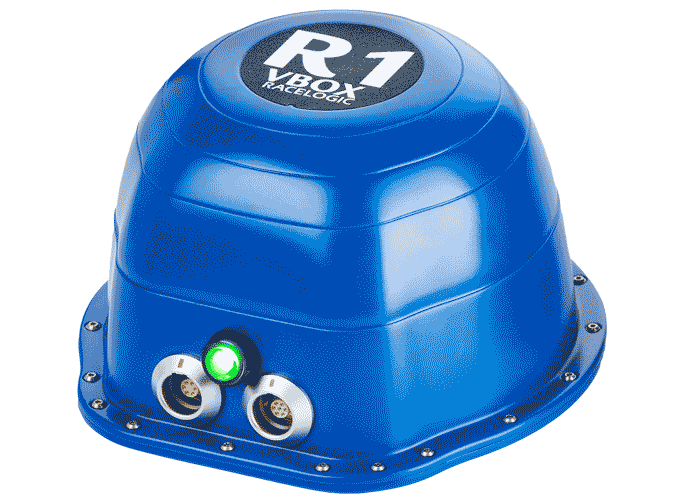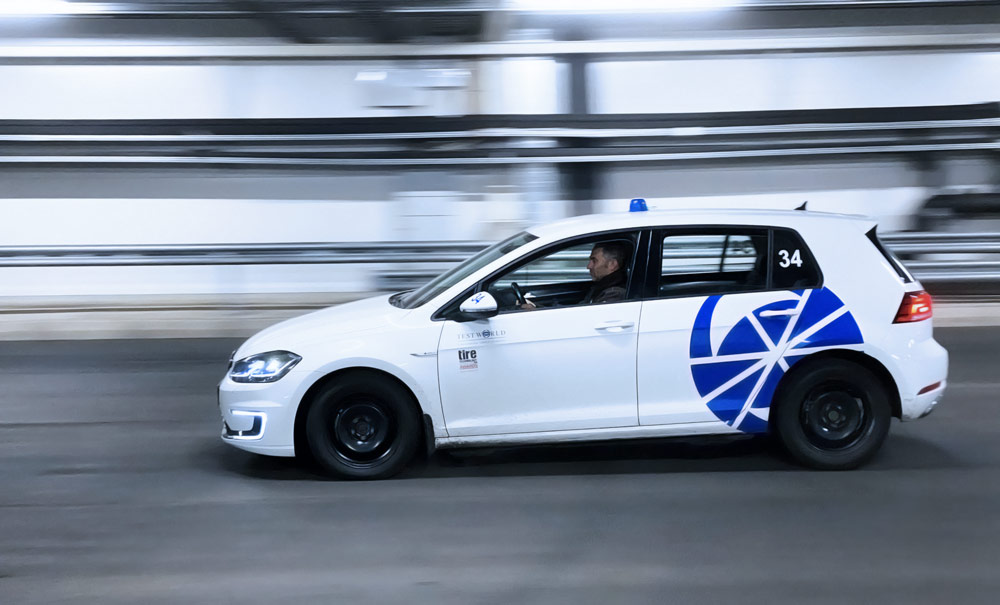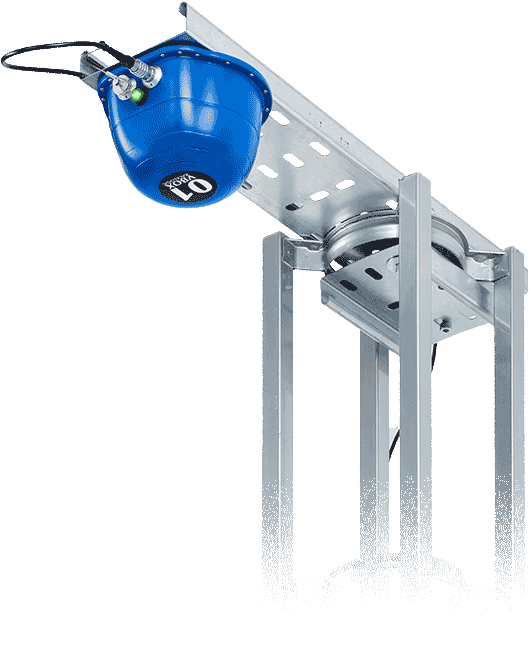 Key Features
Centimetre-level positional accuracy without GNSS*
Real-time 3D position and attitude measurement up to 1kHz
Compatible with existing ADMA systems**
Data latency <1msec
Works simultaneously with up to 5 vehicles
Compatible with all major steering robot systems
Portable and easy to install with no requirement for any complex set-up routines
*Time Sync via GNSS
**depending on the hardware version
Applications
ADAS and vehicle dynamics test in specific environment
Validation of predictive vehicle safety functions with e.g. Camera, Radar, Lidar sensors
Crash tests with complete vehicle and components
Tire tests
Continuous crash tests (with pre-crash phase)
Comprehensive vehicle safety functions with connected sensor systems and V2X
Vehicle dynamics, Adaptive Forward Lightning (AFL), System development and validation
Technical Data
Up to 250 beacons can be installed on one site. They can either be surveyed using a handheld laser or Total Station for positional accuracy better than 2cm, or a self-survey can be carried out for positional accuracy between 5 cm to 10 cm. The beacons are completely stand-alone and can be battery powered, making the deployment very rapid.
| Complete system (VIPS with ADMA) | |
| --- | --- |
| Update rate | Up to 1000 Hz |
| Position accuracy | 0,02 m RMS *** |
| Velocity accuracy | 0,09 km/h RMS *** |
| Angle measurement accuracy | Up to 0,2° *** |
***Measured with ADMA-G-Pro+ compared to ADMA-G-Pro+ RTK2. The antennas are 2 m above the ground with unobstructed line of sight. Depending on ambient conditions; reflection on wall and objects influence measurement performance..
| VIPS Rover & Beacon | |
| --- | --- |
| Operating temperature | -30°C to +60°C |
| IP Rating | IP 67 |
| Size per beacon | 124 mm diameter, 74.5 mm height |
| Weight per beacon | 350 g |
| Beacon power requirement | 6.5 – 30 V DC, 100 mA |
| Communication with ADMA | RS232 |
| Minimum distance between beacons | 25 m to 50 m |
| Centre frequency | 3993.6 MHz / 6489.6 MHz |
| Bandwidth | 1331.2 MHz / 1081.6 MHz |
| Transmit power | -41.3 dBm/MHz |
| Number of beacons | Min 8 (position and velocity) / Max 250 |
| Number of rover | Max 5 |
Recommended products
Options, Add-Ons and accessories