ADAS Evaluation
This single system enables fast and precise evaluation of driver assistance systems by synchronous acquisition of relative movements between multiple vehicles as well as between vehicle and environment. An online visualization and an in-situ evaluation of the captured data supports you in the testing process.
User Advantages
Easy installation and operation
Pre-configured, sophisticated and tested system
Uncomplicated, quick installation in vehicles
All data of all vehicles conveniently available online at a single glance
Reproducible driving maneuvers using online driver guidance
Online 3D distance measurement between moving objects (vehicles, pedestrians) and fixed objects (lane, obstacles)
Suitable for pedestrian tracking
Data security by in-situ quality assurance 
Time saving by automatic reporting 
No synchronization of data required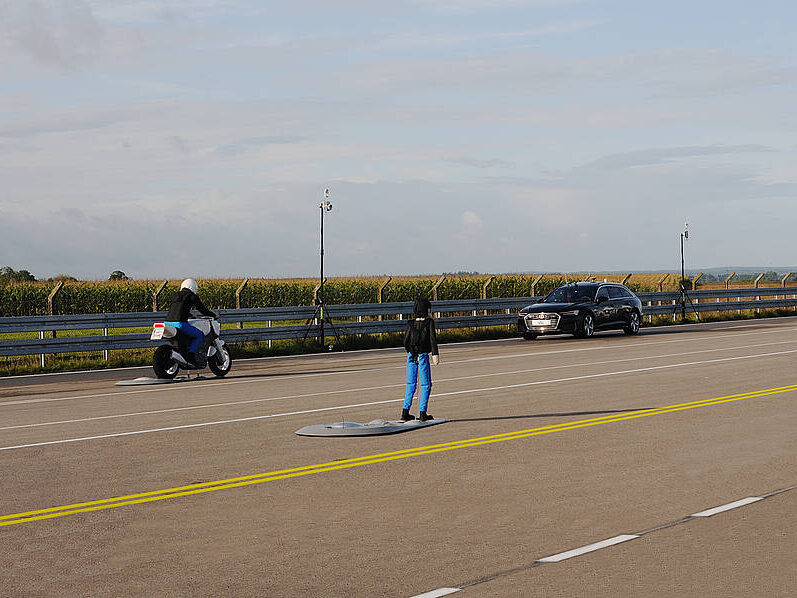 Relative data car to car / pedestrian
Components: ADMA Models and more
The ADAS Testsuite is compatible with all ADMA models featuring RTK2-DGNSS. By this means, a position accuracy of 2 cm can be achieved. The ADMA-G-Pro+ system meets all accuracy requirements and partially disturbed GNSS reception is tolerated. The MEMS based systems requires good GNSS reception. ADMA-Slim can be used to trace pedestrians and to localize fixed objects.
Solutions for real time detection of audio-visual warnings are available as well.
Components: Measurement Data Recording
DEWETRON and DEWEsoft offer various data acquisition systems: These distingu-ish themselves by perfect synchronization of all data, either ADMA data, vehicle data (CAN, FlexRay, XCP) analog data (e.g. Sig-nalgong) or video data (e.g. Dashboard).
Thanks to GNSS-Sync-Clock WiFi transmission, the data of all devices are synchronously calculated, displayed and recorded on a single DAQ. By means of the DEWETRON or DEWEsoft software, all data including vehicle movements are visualized and recorded and the ADMAs are operated remotely by software. Individual online and offline calculations are possible.
Components: DGNSS Correction Data
NTRIP modem: NTRIP-DGPS-Box 4 for online reception of correction data from a service provider (SAPOS, AXIO-NET, SWEPOS, etc.), particularly on public roads.
GPS Base Station with RF modem or WiFi for transmission of DGNSS correction data to local proving grounds.
Suitable Applications
Active safety
ACC (Adaptive Cruise Control)
FCW (Forward Collision Warning)
BA/AEB (Braking Assistant, Autonomous Emergency Brake)
BSD (Blind Spot Detection)
Driver assistance
Ultrasonic sensors
Long range Radar
Video systems
Crash detection
Rollover detection
Pedestrian safety
Relative data car to environment / reference track
Precise Tracing of fixed Objects and Tracks
The ADAS Testsuite can also be deployed for precise lane tracing or measurement of vehicle lane deviation.
The components are identical: ADMA, DEWETRON or DEWEsoft, DGNSS-correction data.
The reference lane for measuring the vehicle deviation can be generated in various ways: by means of ADMA measurement, KML import or by propagading the covered track (straight, circular).
Possible Applications
LSS (Lane Departure Warning, LDW, Lane Keeping Assistant, LKA)
PA (Parking Assistant)
Traffic Sign Recognition
Lateral Offset (braking, load change)
Cross wind sensitivity
Steady state circular test (braking, load change)
Lane change
ISO 26262 (Functional Safety of Road Vehicles, e.g. for ESP and EPS)