Inertial sensors can be used to measure rotation rates and accelerations
Derived or combined sensors:
Inclinometer (2-axis with temperature compensation)
Inclinometer dynamic
1-axis gyroscope to determine the angle of rotation, the rotational position for e.g. the horizontal course direction
Overview inertial­ sensors
Click scrolls to selected option
We recommend a consultation for your individual applications.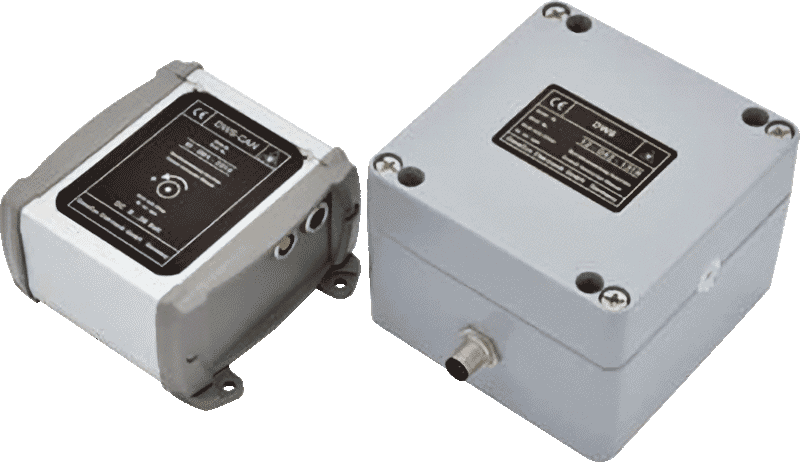 DWS-CAN: Precise rotation angle measurement with CAN-Interface
The DWS-CAN single axis precision fibre optic gyro (FOG) is used for the continuous tracking of rotational motions. It is exceptionally well suited for demanding stabilisation tasks and for exact dynamic angular orientation measurement. Easy integration in civil and industrial applications is provided by the standardized CAN-Interface.
Range of applications
Antenna stabilisation / Camera stabilisation
Platform alignment / Machine alignment
Reference yaw rate sensor
Torsion monitoring
Crane control
Construction machinery control / Structural monitoring
Automated guided vehicles
Features
Measurement of rotational motion
Simultaneous data output of rotation angle and angular rate
Earth rotation rate and angular offset compensation capability
Easy operation via CAN-Interface
Robust and maintenance-free fibre optic technology without moving parts
Wide range power supply input
Internal temperature compensation
Product code for inquiries: DWS-CAN
Smart-Inklino: Digitales Präzisions-Inklinometer – Zweiachsiger Neigungs­messer mit Temperatur­kompensation
In diesem zweiachsigen Inklinometer werden Libellen elektronisch ausgelesen. Mittels Mikroprozessor wird jede Messachse einzeln temperaturkompensiert. Nichtlinearitäten und Nullpunktfehler werden ebenso rechnerisch kompensiert. Durch dieses Verfahren besitzt dieses digitale Präzisions-Inklinometer eine Genauigkeit von 0.4% über den gesamten Temperaturbereich von -10°C bis +60° C.
Besonderheiten
Temperaturkompensation im Bereich von -10°C bis +60°C
Genauigkeit 0,4% FS über den gesamten Temperaturbereich!

Mehrere Messbereiche erhältlich: ±15°, ±30°

Extrem schockresistent, spritzwassergeschützt
Die CAN-Schnittstelle ermöglicht die einfache Integration im industriellen Umfeld. RS232 oder RS485 Schnittstellen sind optional erhältlich.
Die Inklinometereinheit ist spritzwassergeschützt in einem sehr robusten und schockresistent Aluminiumgehäuse untergebracht und wird über einen industrietauglichen M12 Steckverbinder angeschlossen. Die Neigungssensoren zeichnen sich durch eine sehr gute Langzeitstabilität aus.
Produkt Code für Anfragen: PLATZHALTER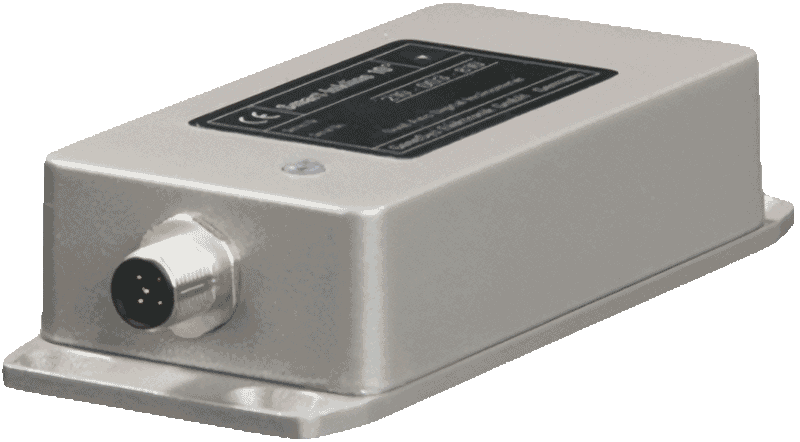 Einsatzmöglichkeit Neigungsmessung
Baufahrzeuge, z.B. Schwarzdeckenfertiger
Berg-, Tunnel- und Kanalbau
Offshore Pfahlrammung, Tiefbohrgeräte
Schlitzwandgreifer und -fräsen
Nivellierung von Fahrzeugen
Mobile Fahrzeugwaagen
Teleskopdrehkrane
Fahrzeugauflieger
Mobile Hebebühnen