If changes of the setting are required, the enclosed GeneSys software Network Device Configurator can be used.
System Requirements
The following minimum system specifications is required:
• 32-bit or 64-bit operating system
• Windows 7, Windows 8 or Windows 10
• Ethernet or Wireless interface
• Microsoft .Net Framework
Connecting the Hardware
Connect the wireless antenna to built-in N-male connector of the WiFi-Kit.
Connect the end of the WiFi-Kit Ethernet cable to the PoE adapter and the other end to a LAN port of an PC.
Connect the power supply.
When the unit is powered up, you will get one response by beep. The unit has completed booted and is ready to be configured after a second response by two beeps.
Adapt the TCP/IP Settings
Please refer to the article TCP/IP Settings for connecting to the ADMA Webinterface for configuring the Network settings of your PC.
Login to the Device
Install and open the Network Device Configurator Software. It is possible to download the Software at Firmware & Software Downloads.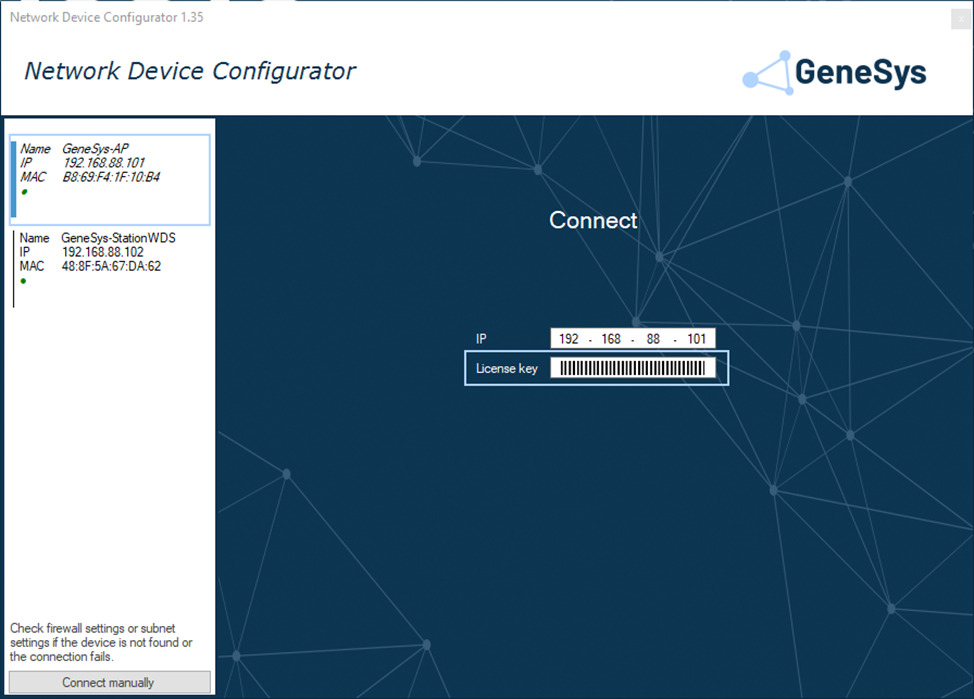 1. Select the device, to be configured.
2. Enter product key, printed at the WiFi-Kit. The product key sticker looks like this:
3. Connect to the device.
Note: Please take care of the product key. If you will ever need to reinstall the Network Device Configurator Software, this product key will be required.
Software Overview
The Software is divided in three sections:
1️⃣ Available systems
2️⃣ System configuration
3️⃣ Sidebar with system information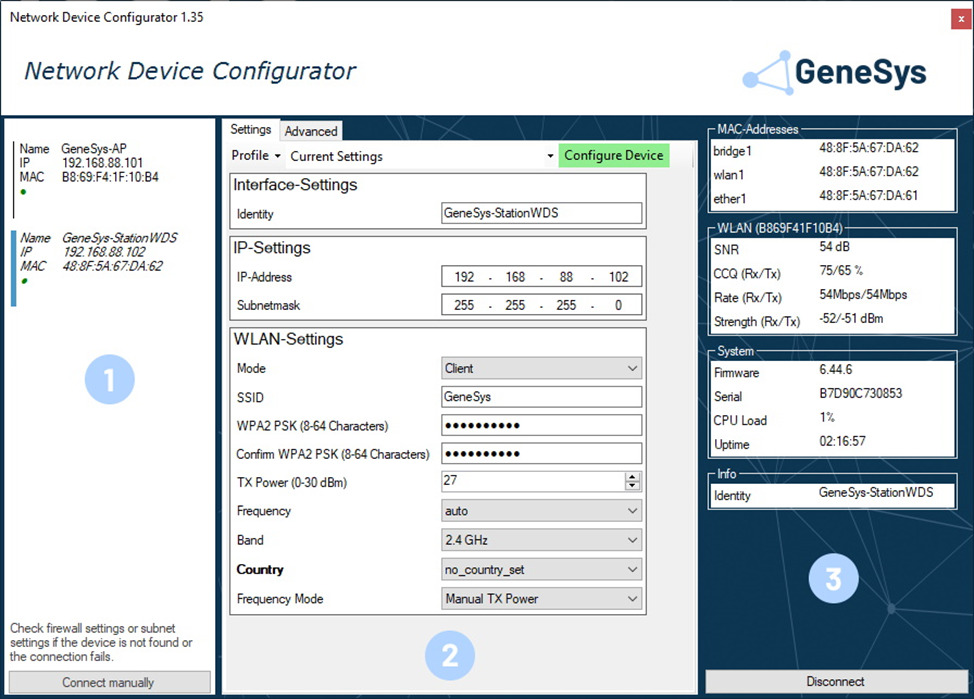 System Configuration
At the main window tab settings, basic configurations regarding IP or WLAN-Settings can be done.
Especially the configuration of the work mode access point or client can be changed.
Side Bar
The System Information page gives an overview of the system identity, CPU Load and Uptime. If a wireless connection is established, the link quality can be indicated.
What is CCQ and how are the values determined?
Client Connection Quality (CCQ) is a value in percent that shows how effective the bandwidth is used regarding the theoretically maximum available bandwidth.
What is the signal strength and how are the values determined?
The signal strength is a value in dBm being received by the wireless system with the current data rate. The range is -113dBm (min) to -51dBm (max). The signal strength bars should match the Signal Strength LEDs on the front of the client systems.