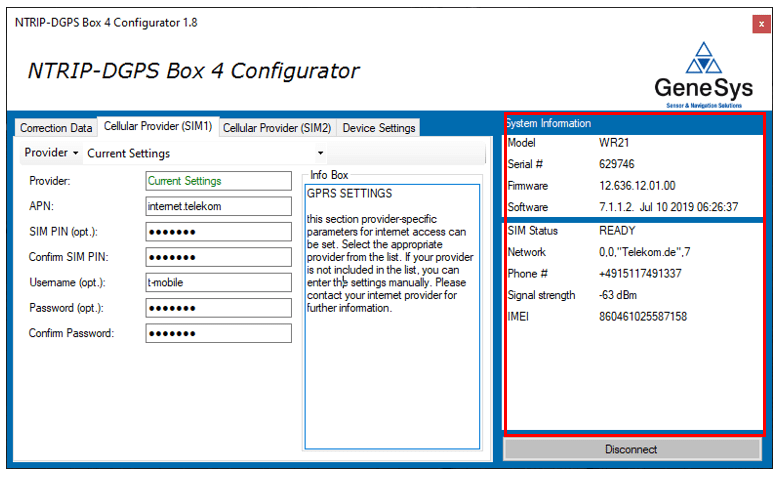 System Information
The System Information page gives an overview of the model name, serial number, software and firmware version of the DGPS-Box.
Mobile Interface
The Mobile Interfaces Status Information displays the current mobile connection, network and module
information.
SIM Status
This indicates whether or not a valid SIM card has been installed in the router. It may be one of the following
READY: SIM is OK.
SIM PIN: PIN number required.
SIM PUK: SIM blocked (unblocking code required).
ERROR: SIM is not installed or is faulty.
Network
The name of the network to which the mobile module is currently connected to, or ERROR if no network is available.
Phone #
The phone number of the current mobile SIM which is connected to the network provider. Please note, some SIM cards have mobile network only licenses. In this case, no phone number is shown, even when the SIM card successfully connected to the mobile network.
Signal strength
The signal strength in dBm being received by the mobile module. The range is -113dBm (min)
to -51dBm (max). The signal strength bars should match the Signal Strength LEDs on the front of the router.
IMEI
The International Mobile Equipment Identification (IMEI) of the mobile module.