The antennas for the ADMA, GNSS, Radio Modem or GPRS-Modem and Wireless LAN should be spaced out across the roof of the vehicle ideally across around 1 m. Locating all antennas in one spot will reduce the performance caused by interference. Additionally, the cables should not being routed together.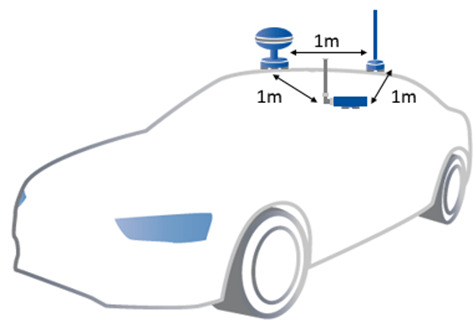 If the ADMA is operated together with a GNSS Receiver in the RTK or DGNSS mode, it is necessary to employ a radio modem or WLAN connection to receive correction data from the Base Station.
In most cases, the IPxx protection type of the modem is not sufficient for external mounting on the vehicle. Therefore, only the modem unit needs to be mounted inside the vehicle, while the antenna of the modem is fastened on the roof.
Note: Radio modems which usually transmit over a 433 MHz / 868 MHz band or WLAN systems at 2,4 GHz / 5 GHz need a direct line of sight to the antenna of the base station in nearly all cases to receive reliable data. Therefore, they should be installed on the roof of the vehicle as high as possible. This does not apply to GPRS modems, those are capable of maintaining contact with the base station, even under unfavourable conditions without a direct line of sight.