This user manual serves as an aid in commissioning the IPS (Indoor Positioning System).
The GeneSys Indoor Positioning System uses a network of fixed transmitters (beacons) in set locations that communicate with a receiver (Rover) using Ultra Wideband (UWB) to measure position and speed. A minimum of six beacons are required and a site survey must be carried out as part of the installation procedure, using a handheld laser or a Total station. This ensures the optimal accuracy. The beacons work stand-alone and can be battery powered.
With a maximum of 250 beacons it is possible to cover huge areas with the IPS. To ensure the maximum of performance, the rover should be in line of sight to 12 beacons, which is the maximum of usable beacons at a time.
The IPS defines the positioning System, that is used by the inertial measurement system ADMA. The ADMA is able to output measurement data as position, velocity and angles with a very high accuracy by using GNSS or IPS as main leading size for the intern Kalman filter.
The UWB rover continuously communicates with the beacons around the area and triangulates its position. Combined with the ADMA performance, the system provides a real-time 3D position and attitude within 2 cm 1 Sigma at a data latency lower than 1 msec and a data output rates up to 1 kHz. IPS can achieve re-acquisition and full accuracy in less than 0.2 of a second, which is even faster than GNSS. The system is designed for high dynamic vehicle tests and validation procedures that are usually performed outside using GNSS.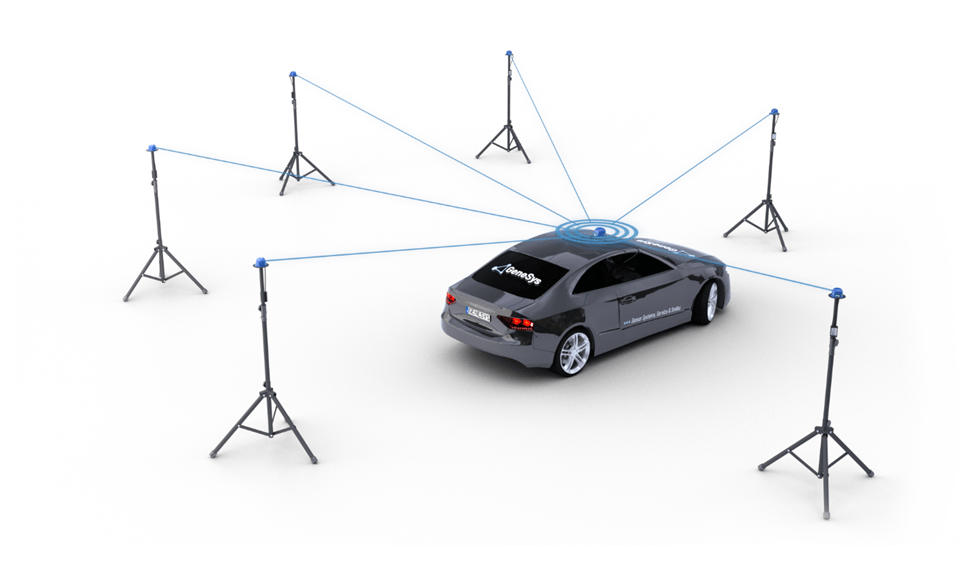 Key Features
Seamless integration between indoor environments (IPS) and outdoor environments (GNSS) by using and ADMA
Centimeter level accuracy in areas with no GNSS being available
Small, rugged and low powered
8-250 beacons for areas up to 3.5 km long
Simple one time configuration by serial cable
100 Hz update rate and low latency for high dynamic applications